0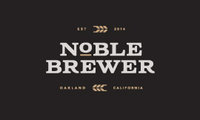 World's most unique beer club
Noble Brewer is the only online marketplace that connects craft beer lovers with great homebrewers.
We provide craft beer lovers access to exclusive limited release beers not available anywhere else with a focus on our featured homebrewers' stories and inspiration.
In each shipment, customers receive four 22oz bottles of beer each inspired by a different homebrewer. Customers learn about each brewer, their inspiration behind the beer and have the opportunity to provide feedback to the brewers through tasting cards included in each shipment.
Our website consists of member-only content allowing our members to get to know the homebrewers better through video, pictures, brewing tips and in depth interviews.